~Komaki plant that through investigation of the quality and the environment~

Komaki plant that was completed in September 1, 2014, is the base for aircraft engine parts production.
This time, we will feature a thought to the aircraft engine parts production as a new challenge for the Company.
Board of directors Executive officer,
MP solution Chubu department
Yohei Ando
We've been doing business for more than 50 years to the axis of the electrical discharge machining.
We cherish that will contribute to the world with customers, and have to expand the business across the country.
In the Chubu and Nagoya region, because the aircraft industry was flourishing, we had been carried out the work to carry out electrical discharge machining to the part of the aircraft engine parts from the old days.
However, the processing in to make engine parts, it was one of only a step.
The future of the era, the demand for commercial aircraft is expected to grow dramatically, rapid expansion of production capacity is required.
We began to think that we also carried out even collectively consistent processing other part not only in charge of the one-step, and must as pay as finished parts.
Against this backdrop, received a consultation, "Can you do this kind of work?" from our customers, we started the consideration.
More specifically, it is to produce a part called a turbine blade rotating at a high speed at the rear of the aircraft engine, but will be broken not withstand the load if there is such as a scratch even slightly.
Compelling track record, quality assurance, trust was the work that can not be unless the certification.
The work could not be if there was no great deal of trust about actual achievement, quality assurance, and certification.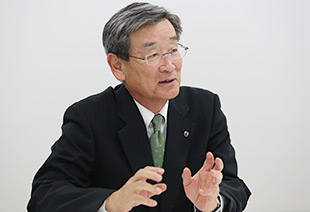 I realized that "This Do's very business of all of the zero start" when it was entrusted with the launch of this business.
Initially, I was also considering putting the equipment to the layout, etc. change in an existing base in a Nagoya plant, but so not very late.
In other words, the plant was not, there was no equipment, was the situation that not even experience the first time of processing.
Built a factory, align the equipment, attracting engineers and technicians, to prepare the technology, it took a great deal of energy, also needed a large investment without since classes began the Company.
Launch members that first a capacity for human resources was required, began from "accomplish together, reliable gather fellow".
In fact, got to train members for the acquisition of processing technology by the customer of the original, not only the processing technique required, maintenance of equipment, jigs, we were allowed to learn to that of production management and quality control.
Learned technology to brush up take-out in-house, while we considered a more efficient approach, we had repeated trial and error.
We did these at all parallel, August 2015, we were able to somehow start the production.
Efforts to this business for us, it says that was an attempt to change the business category to consistent processing from a place called electrical discharge machining only.
We think that was able to overcome somehow one.
Spread the fact that it is these things are to our customers, it is also the so applied a new voice, "How can such a thing?".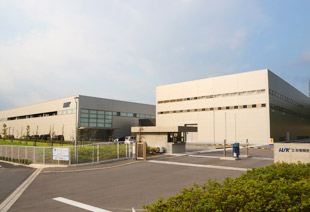 Originally Chubu area is a thriving regional aircraft industry, and is a region where "Zero Fighter" and "YS-11" had been made once upon a time.
Among them, Komaki area has many integrated aviation company.
It means that land that was selected on the grounds that it is a customer of the nearby, and close from Nagoya, Kasugai plant of existing facilities, was Komaki-shi.
In addition, the acquisition of land and factory building was able to receive a big support of the country and government.
In terms of location promotion policy of aggressively aviation industry has been issued, it had been equipped with the environment of administrative support.
Because it was started from agricultural land diversion of the mountain village, generous support was not be able to otherwise. In this regard, we have to thank a lot of everyone.
"Low pressure turbine blade production plant (September 2014 completion)" was completed earlier, and then the "compressor, combustor parts production plant (July 2015 completion)" currently upgrading to meet the new needs.
But in fact still on site in Komaki plant is there about twice there is a large expansion space. Along with the customer's needs, it will become the future big.
MP solution Chubu department,
Group Leader of Blade manufacturing group
Teruyuki Watanabe
Currently, we manufacture engine parts of the Rolls-Royce to be mounted on the Airbus plane "A350 XWB".
It a lot of blade in the rear of the engine is spinning, but it is responsible for from the first stage to the sixth stage.
IC tag is attached to all parts, who used to go to when and how the process, all will continue to be managed up data in real time.
Because we are processing a very large number of blades in mass production, we are dense management by tact management, process management, and quality management.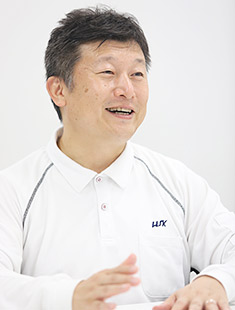 There are 20 steps in a place that is lined with a large machine, but the electrical discharge machining that we are good at is not only in a single step in it.
The other was working like never be done up to now. Equipment was also newly introduced.
At present, we can put the chest they are latest equipments.
Therefore narrowing made of processing conditions from the specification decision of the equipment was very.
Human resource development, documents making, and the stringent audit of the engine manufactures, we carried out in parallel with all.
During there was also such documents as many as 1000 pages, we put together an enormous amount of material.
These were the fact that most hard-point, but when audit came to finished, we gave the glad words from engine manufactures, "The audit was finished considerably smoother than initially expected. There is no wrong even if it takes about twice would normally."
This was not just hard work of one person alone, was works with the team force.
It teamwork was allowed to overcome all that work happily with the spirit of "team Komaki".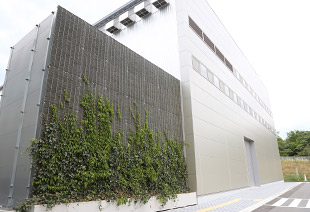 The industrial waste is hardly out is proud of this factory. It is not only a nature-friendly, industrial waste is a completely unnecessary cost, we are thorough management from the viewpoint of.
Water are also used to play, 80% is using reclaimed water.
In full flow work, also rarely people have those heavy. Robot wagon carry them all to the next step.
Did you notice that uniform is white? And say processing plant, you might have an image that craftsmen are working in a dirty uniform on the green of the floor.
But here it is different. Dare we are the white uniform in that it does not stain.
Use bright colors in the interior of the plant, the color of the outer wall was also sticking out.
By such a attempt, this plant has a high employee ratio of women, and employee are motivated in this plant.
MP solution Chubu department,
Group Leader of
Special process manufacturing group
Shoichiro Adachi
In the future, "Compressor, combustor parts production factory" will rise first.
The compressor, combustor parts production factory, will be the production plant of parts other than the turbine blades, mainly compressor and combustor parts.
Unlike the low-pressure turbine blade production plant, it is planned to be able to make a variety of sizes and shapes.
It is a rare facility that precise thermal spraying for aircraft parts, heat treatment, and special processes including NDT (penetrant), etc., all contents cal in one floor.

We will go from now to obtain audits and certifications by the engine manufacturers, but it must be a success.
Quality and delivery time are very strict, there is a very, but the challenge to the hard work in the other.
Site of Komaki plant is 37,000 square meters in total. It uses about 17,000 square meters in conjunction with production plants of the low-pressure turbine blades and the compressor, combustor parts production factory in up to now, but there is still land.
To obtain the trust of our customers, whether we derived in any job in the future.
We look forward to that can further challenge from now.